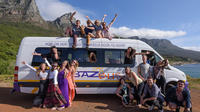 One-Way Hop-on Hop-off Bus from Cape Town to Johannesburg
Hop on Hop off Tours
Price $439.85
Enjoy the freedom to discover South Africa at your own pace with this unique one-way hop-on hop-off bus service between Cape Town and Johannesburg. Travel in the comfort of a 22 seater semi-luxury in the company of fellow travelers who share your passion for exploring and adventure. Convenient pickup and drop-off is available from 180 backpacking hostels located in 40 different cities, towns and villages between Cape Town and Johannesburg. You plan your own route, decide which stops you would like to make and how much time you want to spend in each town, there is no time limit on your ticket.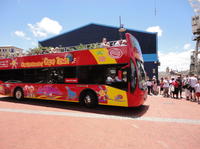 City Sightseeing Cape Town Hop-On Hop-Off Tour
Hop on Hop off Tours
Price $13.66
Explore the best of Cape Town's world-famous attractions aboard an open-top, double-decker City Sightseeing bus! With two routes to choose from, this hop-on hop-off tour of Cape Town is the easiest way to get around the city and see all the sights in just one or two days. Also included in the two-day pass are a wine tour, a nighttime bus tour to see the famous Cape Town sunset over the Atlantic Ocean and a Canal Cruise.